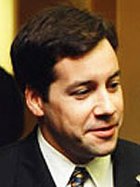 Wolfsthal Jon
Nonresident Scholar, Nuclear Policy Program, Carnegie Endowment for International Peace; Nonresident Fellow, Belfer Center for Science and International Affairs, Harvard University (former Senior Director for Arms Control and Non-Proliferation at the National Security Council; Deputy Director James Martin Center for Non-Proliferation Studies, Middlebury Institute of International Studies at Monterey (USA)
Senior fellow with the CSIS International Security Program, expert on the proliferation of weapons of mass destruction, with particular emphasis on nuclear weapons.
Mr. Wolfstahl has studied current and past nuclear security and proliferation problems and works on issues concerning North Korea and Iran (and has visited nuclear facilities in both countries), as well as on the global challenge of nuclear materials/weapons insecurity and nuclear terrorism. He has done extensive work on U.S. nuclear policy, including nuclear strategy and international nonproliferation policy. Teaches nuclear weapons policy at Georgetown University and has taught previously at the Johns Hopkins School of Advanced International Studies.
Prior to his position at CSIS, he served for six years as the deputy director for nonproliferation at the Carnegie Endowment for International Peace and, before that, worked at the U.S. Department of Energy (DOE) in a variety of positions. During his five years at DOE, he served as the government's onsite monitor at North Korea's nuclear complex at Yongbyon, worked to improve security at Russian nuclear facilities, and oversaw several programs to eliminate trade in weapons-usable nuclear materials. He last served as the special assistant to the assistant secretary for nonproliferation and national security.
Wolfsthal is the coauthor of Deadly Arsenals: Nuclear Chemical and Biological Threats (Carnegie, 2002) and coeditor of Nuclear Status Report: Nuclear Weapons, Fissile Materials, and Export Controls in the Former Soviet Union (Carnegie, 2001). He is a frequently cited expert on the proliferation of WMDs. His articles and op-eds have appeared in many domestic and international publications, including the New York Times, Survival, Current History, Arms Control Today, Bulletin of the Atomic Scientists, International Herald Tribune, Los Angeles Times, and Christian Science Monitor.
Mr. Wolfsthal is the founder of New Analysts in International Security and was educated at Emory and the George Washington Universities.