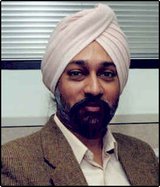 Sidhu Pal W.
Senior Fellow with Brookings India in New Delhi, Visiting Professor, Center for Global Affairs, New York University; Ph.D. (India)
Dr. Waheguru Pal Singh Sidhu is Senior Fellow at the New York University's Centre on International Cooperation (CIC). In addition, he is guest faculty at the NATO Defense College, Rome and member of the editorial board of the Global Governance and Peacebuilding journals. Prior to this he was Vice President of Programs at the EastWest Institute, New York and Head of the WMD and Disarmament programme and Director of the New Issues in Security Course at the Geneva Centre for Security Policy.
Dr. Sidhu has over 20 years of experience in the field of international security in general and confidence-building-measures, disarmament, arms control, and non-proliferation issues in particular. His recent publications include: Challenges and Prospects of Monitoring the 2010 NPT Action Plan; Preparing for a Constructive 2012 Conference on the Middle East Weapons of Mass Destruction Free Zone; 'Nuclear Proliferation' in Paul D. Williams, ed., Security Studies: An Introduction; 'India and Nuclear Zero', in Catherine Kelleher and Judith Reppy (eds) Getting to Zero: The Path to Nuclear Disarmament?; 'Dealing with extra-NPT actors and non-state actors' in Jane Boulden, Ramesh Thakur and Thomas G. Weiss (eds) The United Nations and Nuclear Orders; Arms Control after Iraq: Normative and Operational Challenges; Kashmir: New Voices, New Approaches and China and India: Cooperation or Conflict?
He has also published in leading international journals, including Arms Control Today, Asian Survey, Disarmament Diplomacy, Disarmament Forum, International Peacekeeping, Jane's Intelligence Review, Politique Etrangere, and the Bulletin of Atomic Scientists. In addition Dr. Sidhu also writes a regular column on international strategic issues in Mint (Visit LiveMint.com), a leading Indian business newspaper.
Dr. Sidhu was the consultant to the first, second and third United Nations Panel of Governmental Experts on Missiles in 2001-2002, 2004 and 2007-2008 respectively. He was also appointed as a member of the Resource Group setup to assist the United Nations High-Level Panel on Threats, Challenges and Change in 2004.
Dr. Sidhu earned his Ph.D. from the University of Cambridge. He holds a Masters in International Relations from the School of International Studies, Jawaharlal Nehru University, New Delhi and a Bachelor's degree in History from St. Stephen's College,Delhi University, India.