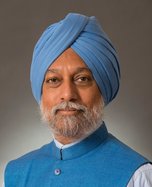 Sidhu Pal Waheguru
Professor, Center for Global Affairs, New York University; Associate Fellow, Geneva Center for Security Policy; Member, Institute for Defence & Strategic Analyses, New Delhi; Ph.D. (US & India)
Waheguru Pal Singh (W.P.S.) Sidhu is associate professor and directs the United Nations (UN) Specialization at the Center for Global Affairs, New York University. He teaches courses on International Relations, the UN & global governance, and weapons of mass destruction. His previous positions include vice president of programs at the EastWest Institute, and director of the New Issues in Security Course at the Geneva Centre for Security Policy. He is alsoSenior Research Associate,South African Institute of International AffairsJohannesburg;Associate Fellow,Geneva Center for Security Policy, Switzerland; Member, International Advisory Council of theInternational Luxembourg Forumon Preventing Nuclear Catastrophe; and Member, Institute for Defence Studies and Analyses, New Delhi.
Dr. Sidhu has over 30 years ofpedagogical andpolicy-related research experience on the UN, multilateralism, weapons of mass destruction, and the evolving global order. He has also served as a consultant to the UN and its affiliate agencies, includingthree UN Panel of Governmental Experts on Missiles. He is the author of multiple books and chapters, and has published inArms Control Today, International Peacekeeping, Jane's Intelligence Review, Politique Etrangere, and the Bulletin of Atomic Scientists. His recent publications include Shaping the Emerging World: India and the Multilateral Orderand The Future of Global Affairs: Managing Discontinuity, Disruption and Destruction (Palgrave, 2021).
Dr.
Sidhu earned his Ph.D. from the University of Cambridge. He holds a Masters in
International Relations from the School of International Studies, Jawaharlal
Nehru University, and a Bachelor's degree in History (Honours) from St.
Stephen's College, Delhi University, India.