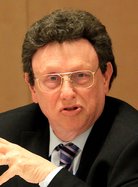 Potter William
Director, James Martin Center for Non-Proliferation Studies; Professor of Non-Proliferation Studies, Middlebury Institute of International Studies at Monterey, Ph.D. (USA)
William Potter was born in New Brunswick New Jersey on 8 July 1947. He received a BA in Government from Southern Illinois University in 1969. He then attended graduate school at the University of Michigan, where he received a Doctorate in Political Science in 1976. He was trained as a Soviet specialist and wrote his first book on the technology, economics, and politics of nuclear nonproliferation.
In 1989, he founded the Center for Nonproliferation Studies (CNS) – the leading research and education center in the nonproliferation field. He also launched the first major graduate concentration in nonproliferation studies, which subsequently became the MA in Nonproliferation and Terrorism Studies at the Middlebury Institute of International Studies at Monterey.
William Potter was an advisor to the delegation of Kyrgyzstan at the 1995 Review and Extension Conference of the Parties to the Treaty on the Non-Proliferation of Nuclear Weapons (NPT). He has participated as a delegate at every NPT Review Conference and Preparatory Committee meeting since 1995.
From 1999 to 2003, he served on the UN Secretary-General's Advisory Board on Disarmament Matters and the Board of Trustees of the UN Institute for Disarmament Research.
William Potter has served as a consultant to the Arms Control and Disarmament Agency, Lawrence Livermore National Laboratory, the RAND Corporation, and the Jet Propulsion Laboratory. He has been a member of the Council on Foreign Affairs and several committees of the National Academy of Sciences, including its Nonproliferation Panel.
Dr. Potter is Sam Nunn and Richard Lugar Professor of Nonproliferation Studies at the Middlebury Institute of International Studies. He is best known for his work on disarmament and nonproliferation education, including the use of simulations in pedagogy, and his research on multilateral nuclear negotiations in the context of the NPT. He is the author or editor of over two dozen books and has contributed chapters and articles to over 130 scholarly books and journals.