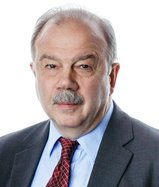 Oznobishchev Sergey
Deputy Chairman of the Organizing Committee of the International Luxembourg Forum; Director, Institute for Strategic Assessments; Professor of MGIMO University, Ministry of Foreign Affairs of the Russian Federation; Head of Division, Primakov National Research Institute of World Economy and International Relations (IMEMO), Russian Academy of Sciences (RAS) (former Chief of the Organizational Analytic Division, RAS); Full Member of the Tsiolkovsky Russian Academy of Astronautics; Ph.D. (Russia)
Director of the Institute for Strategic Assessments, key expert of the Institute of World Economy and International Relations (IWEIR) of the Russian Academy of Sciences, professor at the Moscow State Institute of International Relations, deputy chairman of the Russia-USA Association
Sergei Oznobishchev is a member of the expert council of the International Relations Committee of the Federation Council, the expert council of the Collective Security Treaty Organization, the board of the Russian Political Science Association, the International Pugwash Committee, the board of the Baltic Forum, the Council for Foreign Policy and Defense (under the chairmanship of Sergey Karaganov) and a fellow of the Russian Academy of Cosmonautics.
From September 1998 to November 2001, Oznobishchev was head of the organizational and research department of the Russian Academy of Sciences, and in 1995-1998 he was a member of the Atlantic Group under the Presidential National Security Adviser.
In 1973-1996, Oznobishchev was fellow, senior fellow, sector head for weapons control, and director of the Center for International Security at the Institute for U.S. and Canadian Studies; in 1992-1996 he was chairman of the board of directors of the Center for National Security and International Relations (public organization); in 1992-1994 he was deputy director of the Center for Arms Control and Strategic Stability of the Foreign Policy Association; and in 1989-1990 he was an expert at the USSR delegation to negotiations on conventional armed forces in Europe (Vienna, Austria).
Oznobishchev is the author of more than 120 works in Russian and English on the issues of security, arms reduction, Russia's bilateral relations with other countries, and the foreign and domestic policies of Russia and other states.