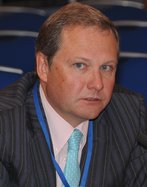 Orlov Vladimir
Member of the UN Secretary General's Advisory Board on Disarmament; Special Advisor, PIR Center; Head of the Center for Global Trends and International Organizations, Diplomatic Academy of the Ministry of Foreign Affairs of the Russian Federation (former Advisor of the Russian delegation at the 2010, 2015 NPT Review Conferences); Ph.D. (Russia)
Vladimir Orlov is a leading Russian expert on international security and Russian foreign policy. His scientific interests revolve around modern challenges and threats to international security, primarily nuclear non-proliferation issues.
In 1994, Orlov founded PIR Center (Russian Center for Policy Studies) and since then has been its President. Besides running PIR Center in Moscow, since 2006 he also chairs its European Office in Geneva, Centre russe d'etudes politiques. Orlov is a member of PIR Center's Executive Board. Since 1994, he has been chief editor of the Security Index journal which used to be called the Nuclear Control until 2007. He is a member of the Public Board at the Russian Ministry of Defence, the Russian Pugwash Committee under the Presidium of the Russian Academy of Sciences, and the Research Council of the Russian National Committee for BRICS Studies. Orlov also sits in the Monterey Nonproliferation Strategy Group and the Washington Quarterly Editorial Board. In 1993, he founded the Trialogue Club International. Orlov is an Associate Research Fellow at the Geneva Centre for Security Policy (GCSP). In 2010 he participated in the NPT Review Conference as part of the Russian delegation. Orlov is also a member the International Nuclear Energy Academy (INEA). He has PhD in Political Sciences.
Orlov is actively involved in scientific, educational, teaching and advisory activities in Russia and abroad. He gives lectures in Moscow, Geneva and Bishkek. The Nuclear Non-proliferation textbook (Second Edition, 2003) was published under his general editorship.
Orlov is an author (co-author) of over ten books and monographs, as well as around three hundred research works and op-ed articles. Besides the Security Index published by PIR Center, Orlov's articles were recently published in the International Affairs, the Russia in Global Affairs, the Washington Quarterly and the Seguridad Internacional journals, as well as in the Kommersant and the Moscow News newspapers.