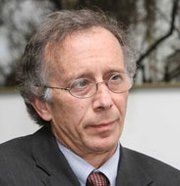 Nurick Robert
Senior Fellow of the Atlantic Council (former – Director of the Carnegie Moscow Center) (USA)
Senior Fellow in the Washington office of the Center for Nonproliferation Studies of the Monterey Institute of International Studies, a non-governmental organization devoted to training and policy research in non-proliferation and related international security issues. Member of the International Institute for Strategic Studies, the American Association for the Advancement of Slavic Studies, and the Central Eurasia Studies Society, and is a member of the Board of Directors of the U.S-Baltic Foundation.
February 2001 - August 2003 - Director of the Carnegie Moscow Center, a Russia-based public policy research institution established in 1993 by the Carnegie Endowment for International Peace. In that capacity, Mr. Nurick had overall responsibility for the intellectual agenda of the Center's research staff and for day-to-day management of Center operations.
1985 - 2001 - Senior Political Scientist at RAND in Santa Monica, California and Washington, DC. In 1994-1999 - Associate Corporate Research Manager, (later) Manager of Foundation Programs for International Policy. 1991-1992 as Associate Director of the National Security Strategies Program in RAND's Project Air Force. 1985-1988 - Associate Director of the RAND/UCLA Center for the Study of Soviet International Behavior. 1981-1985 - Assistant Director and Director of Studies at the International Institute for Strategic Studies in London. His responsibilities included overall planning and supervision of the Institute's research program, and editorship of the IISS journal, Survival. As the American member of the Directing Staff he also had primary responsibility for U.S. foreign and defense policy, and European-American relations. 1977-1978 - Special Assistant to the Deputy Assistant Secretary of Defense for Policy Plans and National Security Council Affairs. 1978-1981 - Principal Action Officer for Theater Nuclear Forces and SALT in the Arms Control and Disarmament Agency. In this latter capacity he was ACDA representative to the inter-agency Working Group on Theater Nuclear Forces, which coordinated the government's staff level work leading to the December 1979 decision to deploy Pershing II and ground-launched cruise missiles in Europe and to enter into arms control negotiations with the USSR.
Mr. Nurick's principal research interests have been in the areas of Soviet--and then Russian--foreign and defense policy, European security, and arms control and non-proliferation. With the breakup of the USSR, his work has focused on the interrelationships between domestic politics and security policies in Russia, Ukraine, the Baltic states, and Central Asia; on NATO reform and its impact on evolving security arrangements in Europe; on Russian-American relations; and on arms control and non-proliferation.