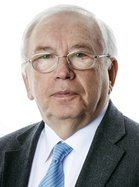 Lukin Vladimir
Professor, National Research University – Higher School of Economics; Member of the Supervisory Board, International Luxembourg Forum (former Deputy Chairman of the Committee on International Relations, Council of Federation, Federal Council of Russia (Russian Senate); Chairman of the Committee on International Relations and Deputy Chairman of the State Duma, Russian Federation; President, Russian Paralympic Committee; Ambassador of the Russian Federation to the United States of America; Commissioner on Human Rights for the Russian Federation) (Russia)
Vladimir Lukin was born on July 13, 1937 in the city of Omsk. In 1959 he graduated from the Moscow State Pedagogical Institute of Vladimir Lenin. He is Doctor of Historical Sciences and Professor.
During 1959-1960 he worked as a Researcher in the State Historical Museum of the USSR and then, in 1961-1965 – in the Institute of World Economy and International Relations (IMEMO). In 1965-1968 Vladimir Lukin was Senior Consultant of the editorial board of the "Problems of Peace and Socialism" magazine in Prague, in 1968-1987 – Head of the Section of Far Eastern Policy Studies in the Institute of USA and Canadian Studies.
In 1987-1990 he was Head of Division of Pacific Ocean States and South Eastern Asian Department, and then – Head of Division of the Department for Assessment and Planning, Ministry of Foreign Affairs of the USSR.
In 1990 he was elected as a Deputy to the Supreme Soviet (Parliament) of the Russian Federation, being a candidate from "The Democratic Russia" party. In June 1990 he was elected as a Head of the International Relations Committee of the Supreme Soviet of the Russian Federation.
In 1992-1993 he was nominated to be the Ambassador of the Russian Federation to the United States. From May 1992 he was Russian Observer to the Organization of American States. In December 1995 he was elected as Deputy of the State Duma (Russian Parliament), where he occupied the position of the Chairman of the International Relations Committee. In December 1999 he was appointed as a Vice-Speaker of the State Duma.
In 2004 - 2014 Vladimir Lukin was the Human Rights Commissioner of the Russian Federation. He was elected repeatedly as President of the Russian Paralympic Committee – the position he occupies now. He has a row of Russian State Awards.