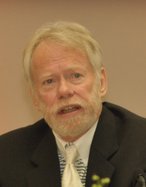 Legvold Robert
Marshall D. Shulman Professor Emeritus, Department of Political Science and the Harriman Institute, Columbia University; Ph.D. (USA)
Robert Legvold is Marshall D. Shulman Professor Emeritus in the Department of Political Science at Columbia University, where he specialized in the international relations of the post-Soviet states. He was Director of The Harriman Institute, Columbia University, from 1986 to 1992. During 2008-2010 he was project director for "Rethinking U.S. Policy toward Russia" at the American Academy of Arts and Sciences. From 2009-2012 he was director of the "Euro-Atlantic Security Initiative" sponsored by the Carnegie Endowment for International Peace and co-chaired by Sam Nunn, Wolfgang Ischinger, and Igor Ivanov.
Dr. Legvold's areas of interest are the foreign policies of Russia, Ukraine, and the other new states of the former Soviet Union, U.S. relations with the post-Soviet states, and the impact of the post-Soviet region on the international politics of Asia and Europe. His most recent books are collaborative volumes, The Policy World Meets Academia: Designing U.S. Policy toward Russia (The American Academy of Arts and Sciences, 2010) and Russian Foreign Policy in the Twenty-first Century and the Shadow of the Past (Columbia University Press, 2007). His most recent essays are, "Reconciling Limitations on Non-Strategic Nuclear Weapons Conventional Arms Control, and Missile Defense Cooperation," in Steve Andreasen and Isabelle Williams, eds., Reducing Nuclear Risks in Europe: A Framework for Action (NTI, 2011); "Encountering Globalization Russian Style," in Julie Wilhelmsen and Elana Wilson Rowe, Russia's Encounter with Globalization" (Routledge, 2011).
He is a fellow of the American Academy of Arts and Sciences and a foreign member of the Russian Academy of Social Sciences.