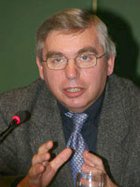 Konovalov Alexander
President, Institute for Strategic Assessments; Professor of the National Research University — Higher School of Economics; Ph.D. (Russia)
Professor of the World Political Processes Department of the Moscow State Institute of International Relations, president of the Institute for Strategic Assessments (non-governmental expert center), political consultant for Channel 1 Russia
Alexander Konovalov graduated cum laude from the Moscow Engineering Institute (University) of Geodesy, Cartography and Aerial Photography in 1967 with a degree in fiber-optic instruments; he also received a degree in applied mathematics from the Moscow Institute of Electronic Machine Building in 1972. He defended his dissertation and received a PhD in Technical Sciences at the Moscow Bauman State Technical University in 1977.
In 1982, Georgy Arbatov invited Konovalov to work at the Institute for U.S. and Canadian Studies of the USSR Academy of Sciences, where he worked until 1998 as director of the Center for Military Policy and System Analysis. His professional interests revolve around domestic and foreign policy issues, national and international security, arms control and reduction, and strategic stability.
For several years Konovalov was a member of the special expert group for developing the Russian Federation National Security Concept, founded by decision of the Presidential Administration. Since 2003, he has been a member of the expert council under the Foreign Affairs Committee of the Federation Council.
As an invited expert on military and political issues, Konovalov has delivered his addresses twice at U.S. Congressional hearings, the Armed Services Committee (1989) and the Committee on Foreign Affairs (1990) of the House of Representatives. He has also spoken at the European Parliament and a number of other European parliaments.
Konovalov taught as visiting lecturer at Columbia University (New York) in 1991; he has also lectured at Brown University, UC Berkeley, Princeton, Harvard, Stanford, California State University, Illinois University, the University of Louisville, the Naval War College (U.S.) and the Bundeswehr University (Germany). In 1990-1999, he gave twice yearly short lecture courses at the NATO Defense College in Rome, and in 1995-2000 he was a professor at the George C. Marshall European Center for Security Studies (Garmisch-Partenkirchen, Germany).
Konovalov is the co-author and editor of more than 20 books and brochures published in Russia, the U.S., the U.K., Germany, the Netherlands, Belgium and Italy.