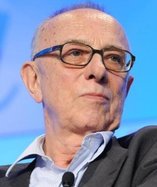 Jean Carlo
President of the Society for the Management of Nuclear Plants "SOGIN" (former Military Adviser to the President of Italy); General, retired (Italy)
President of the Corporation for Nuclear Plant Management (SOGIN)
1953-1955 - Student at the Military Academy in Modena. In 1960, he received his degree in Political Science from Turin University.
1988-1990 - Director of the Military Center for Strategic Studies.
Since 1998 - Member of the research council of LIMES, the Italian journal on geopolitics, and a member of the scientific committee of the Confederation of Italian Entrepreneurs.
1990-1992 - Military advisor to the President of the Italian Republic.
Since 1999 - President of the Corporation for Nuclear Plant Management (SOGIN).
Carlo Jean was granted the title of Companion of the Order of Grand Cross for merits before the Italian Republic. On July 9, 1998, he was awarded the Mahatma Gandhi Gold Medal by UNESCO for his contribution to preventing conflicts in the Middle East and the Balkans.