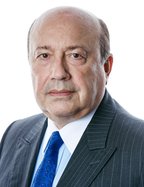 Ivanov Igor
President of the Russian International Affairs Council; Professor at the Moscow State Institute for International Relations (University) of the Russian Ministry of Foreign Affairs (former Minister of Foreign Affairs; Secretary of the Security Council of the Russian Federation); Corresponding Member, Russian Academy of Sciences (Russia)
Igor Ivanov is President of the Russian International Affairs Council (RIAC) and Professor at the Department of Global Political Processes at the Moscow State Institute for International Relations (MGIMO), Ministry of Foreign Affairs.
He served as Minister of Foreign Affairs from 1998 to 2004, and Secretary of the Russian Federation Security Council from 2004 to 2007.
Minister Ivanov holds the rank of Ambassador Extraordinary and Plenipotentiary. He participated in multiple UN General Assembly sessions, and international conferences. He also co-chaired the Bosnia settlement talks in Dayton, Ohio. From 1991 to 1993, he represented the USSR and then Russia as Ambassador to Spain.
Igor Ivanov also worked as a researcher at the Institute of World Economy and International Relations, USSR Academy of Sciences. He has published a number of books and articles on the history of Russian foreign affairs and foreign policy.
He serves on the Board of Directors of Nuclear Threat Initiative, United Nations Foundation, and the Supervisory Council of the Luxembourg Forum on Preventing Nuclear Catastrophe.
He graduated from the Moscow State Institute of Foreign Languages in 1969, holds a Ph.D. in History and is a Corresponding Member of the Russian Academy of Science.