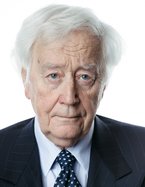 Ekeus Rolf
Ambassador (former High Commissioner on National Minorities at the OSCE; Chairman of the Governing Board at the Stockholm International Peace Research Institute - SIPRI) (Sweden)
Ambassador Rolf Ekeus was born in 1935, Kristinehamn, Sweden. He married to Christina K.Oldfeldt-Ekeus.
In 1959 he graduated from the Stockholm University as a lawyer, and later practiced in County Court Karlstad. He studied in the Swedish Defense College in 1982–1983.
In 1962-1983 Rolf Ekeus was a member of the Swedish Foreign Service with postings in Bonn, Nairobi, New York (UN) and the Hague. In 1983-1988 he was Ambassador and Permanent Representative of Sweden to the Conference on Disarmament in Geneva. He also chaired the Meeting of National Authorities of States Parties to the Chemical Weapons Convention in 1984 and 1987. Being a Swedish ambassador he headed his country's delegation to the Conference on Security and Cooperation in Europe (CSCE) in 1988–1992. He chaired the Committee on principles Charter of Paris (1990–1991). He was Ambassador of Sweden to the United States in 1997–2000.
Over the last twenty years Rolf Ekeus has addressed the issues of nuclear nonproliferation. From 1991 till 1997 he held the position of Executive Chairman of the United Nations Special Commission on Iraq (UNSCOM) to monitor of the WMDrelated infrastructure in Iraq. He was also a member of the Advisory Board on Disarmament of the Secretary General of the United Nations (1998–2003). He is a member of the Advisory Board of the Nuclear Non-Proliferation Center, Monterey Institute, since 1997.
Rolf Ekeus was the OSCE's High Commissioner on National Minorities (2001– 2007). In October 2000 the Swedish government granted him special powers to conduct by 2003 two important investigations. One was to study and assess Sweden's policy during the Cold War, the other one was to investigate political and military solutions related to the infiltration of foreign submarines into Swedish territorial waters from 1980. He is a Member Board of Directors of the Nuclear Threat Initiative, Washington, since 2001 and has been Chairman Emeritus of the Governing Board of the Stockholm-based International Peace Research Institute from 2002.
Ambassador Rolf Ekeus was a member of the Canberra Commission on the Elimination of Nuclear Weapons (1995–1996) and the Tokyo Forum for Disarmament in 1998. He is Chairman of the Swedish Pugwash Conferences on Science and World Affairs from 2005 and Chairman Swedish OSCE network. He is a member of the Royal Academy of the War Science, Stockholm, and a member of the Board Axel and Margaret Ax-son Johnson Foundation, since 2001, and a member of the Executive Board of the European Leadership Network. In recognition of his contribution to nuclear non-proliferation the Carnegie Peace Foundations awarded him the Wateler Peace Prize in 1997.
He is a member of the Supervisory Council of the Luxembourg Forum on Preventing Nuclear Catastrophe.