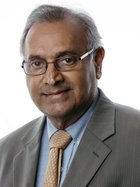 Dhanapala Jayantha
Ambassador, Distinguished Associate Fellow at the Stockholm International Peace Research Institute (SIPRI), Member of the Supervisory Board of the International Luxembourg Forum (former President of Pugwash Conferences on Science and World Affairs, United Nations Under-Secretary-General for Disarmament Affairs) (Sri Lanka)
Chairman of the United Nations University Council and President of the Pugwash Conferences on Science and World Affairs; member of the Governing Board of the Stockholm International Peace Research Institute (SIPRI) and several other advisory boards of international bodies. Career
1998 - 2003 - Former UN Under-Secretary-General for Disarmament Affairs; 1995 - 1997 - Ambassador of Sri Lanka to the USA; 1987 - 1992 - Director of the UN Institute for Disarmament Research (UNIDIR); 1984 - 1987 - Ambassador of Sri Lanka to the UN Office in Geneva.
As a Sri Lankan diplomat Jayantha Dhanapala served in London, Beijing, Washington D.C., New Delhi and Geneva and represented Sri Lanka at many international conferences chairing many of them including the historic NPT Review and Extension Conference of 1995.
Mr. Dhanapala has a Bachelor of Arts (Honours) degree from the University of Peradeniya in Sri Lanka and a Master of Arts in International Studies from the American University in Washington D.C.,U.S.A. Studied Chinese at the School of Oriental and African Studies in the University of London, worked as a Diplomat-in-Residence at the Monterey Institute of International Studies in California, USA. Mr. Dhanapala was the first holder of the Simons Visiting Chair in Dialogue in International Law and Human Security at Simon Fraser University in Vancouver.
Jayantha Dhanapala has received many Sri Lankan and international awards and honorary doctorates, has published four books and several articles in international journals and lectured widely.
He speaks Sinhalese, English, Chinese and French. He is married and has a daughter and a son.