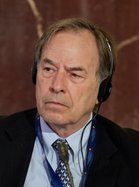 Blair Bruce
Co-Founder of Global Zero International Movement; Senior Research Scholar, Princeton University; Ph.D. (USA)
Born in Creston (Iowa) on 16 November 1947, Bruce Blair graduated from the University of Illinois in 1970. He was awarded a Doctorate degree in Operations Research from Yale University in 1984.
From 1970 to 1974, Bruce Blair served in the U.S. Air Force as a launch control officer for Minuteman intercontinental ballistic missiles, as a project director at the U.S. Congressional Office of Technology Assessment from 1982 to 1985, and from 1987 to 2000 was a senior fellow in the Foreign Policy Studies Program at the Brookings Institution.
Bruce Blair directed several non-profit organizations as President of the Center for Defense Information, Founder and President of the World Security Institute (WSI) where he helped establish the Pulitzer Center on Crisis Reporting, and Founding Board Chairman of the Center on Global Interests which focuses on U.S.-Russian relations.He also served as a member of the U.S. Secretary of State's International Security Advisory Board from 2011 to 2017.
In 2008, he co-founded Global Zero, a global movement of world leaders, high level experts, activists and citizens seeking the universal elimination of nuclear weapons.
Bruce Blair is a Research Scholar with the Program on Science and Global Security based at Princeton University's Woodrow Wilson School of Public and International Affairs.
He has authored numerous books and articles on security issues and produced many documentary films with security-related themes for CNN, PBS, and theatrical release such asCountdown to Zero(2010). He also created and was the executive producer of the PBS weekly television seriesSuperpower: Global Affairs Television(2002 – 2004), andForeign Exchange with Fareed Zakaria(2005 – 2009).
Among the awards Dr. Blair has received have been a MacArthur Fellowship Prize (1999) and the Simons Foundation Award for Distinguished Global Leadership in the Service of Peace and Disarmament (2018).