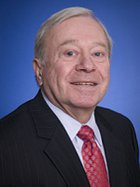 Berls Robert
Senior Advisor for Russia and Eurasia, Nuclear Threat Initiative (former Special Assistant to the U.S. Secretary of Energy for Russia/NIS programs); Ph.D. (USA)
Robert E. Berls, Jr. serves as a senior advisor, nuclear materials security and director of Nuclear Threat Initiative's Moscow office. Having joined NTI in its first year, Dr. Berls has directed or helped manage all of NTI's projects in Russia that have addressed nuclear, chemical and biological threats.
Dr. Berls' career spans military, government, academia and business. He served for 26 years in the U.S. Air Force, rising to the rank of colonel. During the 1980s he served as air attaché at the U.S. Embassy in Moscow. He served as special assistant to the Secretary of Energy for Russia/NIS programs, during the first Clinton Administration. Before joining NTI, he was vice president for business development and government relations for a U.S. oil company.
Dr. Berls holds a doctorate in Russian area studies from Georgetown University.