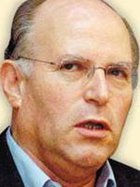 Arad Uzi
Professor of Government at the Interdisciplinary Center, Lauder School of Government, Diplomacy and Strategy (former National Security Advisor to the Prime Minister of Israel, Chairman of the Israeli National Security Council), Ph.D. (Israel)
Curriculum Vitae
Founding Director of the Institute of Policy and Strategy (IPS) and Professor of Government at the Lauder School of Government, Policy and Diplomacy, The Interdisciplinary Center, Herzliya.
Born: October 2, 1947, Tiberias, Israel.
B.A. Political Science cum laude, Tel Aviv University (1971); M.A. International Politics, Princeton University (1973); Ph.D. International Politics, Princeton University (1975).
1975-1997 Mossad – Israeli Foreign Intelligence Service (last position – Director of Intelligence; rank equivalent to Major-General)
1997-1999 Foreign Policy Advisor to the Prime Minister's Office
Professor Arad is a senior counselor in the Israeli Parliament (Knesset) Foreign Affairs and Defense Committee. He is the director of the Posen Foundation and serves on the boards of several institutions, including Jewish People Policy Planning Institute.
Professor Arad is married to Ruth Arad and has two children, Dorit and Orna.